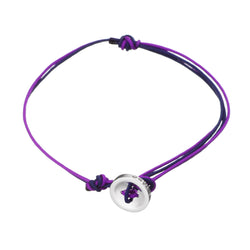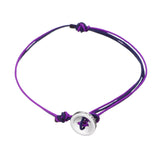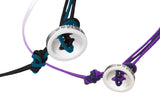 Diamee Joaillerie
Love button Silver + cord
The Lovebouton by DiaMee is the new mixed & couture gem!

Elegant and discreet, easy to wear on all occasions, Lovebouton is par excellence the symbol of the bond of love or friendship. A chic, unisex and precious little jewel with a soft and universal shape, it will fit perfectly in both women's and men's wardrobes. The bracelet is closed with a buttonhole in which the precious button is inserted. The double drawstring is adjustable for the size of the wrist. And above all, the double cord can be combined in 2 colors, one or both of which will be common with your darling. The collection is available in a mixed version on double cotton cord (2 sizes depending on the diameter of your handle: X = from 13 to 17 cm and M from 16 to 20 cm): in silver, yellow gold, pink gold, white gold , black gold and black diamonds on black gold.
Dimensions: diameter: 10mm / thickness: 2mm
Made to order. 100% French manufacturing.
Shipping within 3 to 4 weeks in a beautiful box with its certificate of authenticity.
We are very careful of your satisfaction. We have worked hard to achieve this very high level of quality. DiaMee rings are made to the highest quality standards and are made to last for life. They can be passed down from one generation to the next. You have a guarantee for any material and manufacturing defects. Normal wear, accidents or lack of care are excluded from this coverage. For this guarantee to be valid, all any possible repairs must have been carried out by us.
When it comes to distance selling, the consumer has the right to a legal withdrawal period of 14 days. This means that he has 14 days to exercise his right of withdrawal without having to justify reasons or pay penalties, except for the return fee. The costs of shipping, insurance and any material costs are therefore up to you.
It is clear that the jewellery must be returned in an absolutely new condition and must not have been worn or scratched. Otherwise, of course, it will not be possible.
We are absolutely certain of the quality of our jewelry but you may wish to make an exchange and we remain attentive to you. The best thing is always to be able to exchange.
Finally know that unlike other brands, we make for each order, your custom ring. After you come back, we will have to have another one made... It is therefore important to know and check your finger size before you place your order.
If you were not satisfied or if the size ordered was not the right one, please contact us beforehand at: sav@diamee.com